Playbook

Order Page
The Do's and Don'ts of Dice™ is the only craps playbook you will ever need. Purchase the playbook PDF, in color, and in additions you will receive the free bonus eBook, Chronicles of Playing 4 Keeps, with your order.
Have you ever been in a craps game and, at the end of big hand, you wished you had known that the opportunity was about to roll? What if you could know the future? What if a strategic method of play existed that pounced on every opportunity and rode it to the moon? Think about it! What if I told you that learning to perceive the future, as well as using a strategic method, is just a click away? Well, here's the answer. It's called Playing 4 Keeps® and the knowledge is contained in the Do's and Don'ts of Dice™ playbook. 
Here are your do's and don'ts. You don't have to be an expert dice setter. You don't have to be a high-roller. You don't have to invest a couple of thousand dollars for a convoluted "maybe" dice method. You do have to follow a simple prescribed strategy. You do have to make the decision to select the PayPal Buy button below and purchase the Do's and Don'ts of Dice™ playbook. You do have to read the contents of the playbook, and you will be Playing 4 Keeps®.
The Do's and Don'ts of Dice™

The playbook contains everything you will need for successful dice play. Not only that, you will learn the best approach for playing craps for both the Pass Line and the Don't Pass Line. You will never miss out on a big hand again. Simply follow a prescribed, disciplined, and proven method of play. Concrete proof by the math, says the Stack'em Don't Rack'em play the best bet on the layout. 
What is the premise of Do's and Don'ts of Dice™? It's simple really! You risk as little of your money possible. You make the best bets. You have the least exposure to the house odds. You have the best possible rate of return. You get the best bang for your buck Playing 4 Keeps®. When Playing 4 Keeps®, you will never miss out on a big hand.
Now you can have the same playbook provided in Michael's Do's and Don'ts of Dice™ class for about the price of a paid winning $25 pass line bet with double odds.  In fact, his "S.D.R" strategy, the best bet in craps, can pay for this book in three rolls of the dice. (That's the math talking, not a bologna sandwich.) 
The Do's and Don'ts of Dice™ is delivered to you by email, in color, 88- pages – PDF format, with 50,241 words about winning. (not war stories) The playbook focusses on "APPLIED METAPHYSICS, as it related to; betting strategies for the Pass line and the Don't pass line, money management, bankroll protection, dice setting with the Professor's personal dice sets, Come betting, Place betting, tables and charts, along with a step by step tutorial demonstrating the Beauty of Playing 4 Keeps®.  All of this and more for an unheard of price of only $149.95. But that's not all. The Chronicles of Playing 4 Keeps® eBook is included as a Free Bonus. ($19.95 value)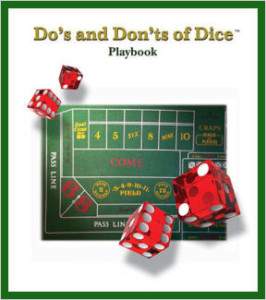 Order the Do's and Don'ts of Dice™
Only $149.95
In color, PDF Format, 8.5″ x 11″
Testimonials from Satisfied Do's and Don'ts of Dice Playbook Owners

Dear Mikey, I was a bit tired the first couple of days when I arrived in Las Vegas, so I didn't play… but on day three, I tried your dice system and creamed 'em for $800 in 20 minutes. I thought it best to walk out at that point as there was no way I was going to allow them to make you wrong… or me! Stuart Wilde
Michael, I just wanted to give you a little update since purchasing your book. I have been to Vegas twice since purchasing. For now, I have been playing $5 stadium craps (where a player is rolling at a shorter table but everyone is betting at their own machine). The price is right and is the best of both worlds. Anyways, trip one I made a couple hundred dollars and only played the right side. I started at $5 dollar level and worked up from there. I played for keeps and incorporated stack'em, don't rack them into my play.
I just got back from trip two and this time made about 700 dollars ($5 level). In addition to playing the pass line, this time I started playing the don't when the table got cold.  It made a difference and allowed me to make up my losses plus some. Just wanted to say thank you.  I am having a lot of fun and betting bigger than I ever have in the past which adds an element of fun to the game. Now I just need to work on my roll. I could roll for a while but constantly struggled hitting my point. Oh well, baby steps. Thanks again, J.D. 03/26/2023
Michael, Thanks for the follow up with us after our one day dice lesson with you. It was nice to see your "check-up" email. Jon and I don't get much practice time together, however I did see where P4K could take us. I started out with a $150.00 buy-in. I was playing at home on our practice table. I was shooting normal point and out. Then shot random rolls left handed (opposite) two, three throws with a couple pass line bets losing some, winning some. Then I remember what you taught us.
I studied my toss and made the needed adjustments. I rolled at least a 40 roll hand. I marked my points which were a total of 7 points in that roll. I hit a few come out 7's. When this happened, I was down to $20 out of the $150 buy-in. After all was said and done, I recouped my $150 buy-in and was up $385 in profit. It was a good feeling to see P4K at work. Now, I just need it to happen in the casinos. I kept seeing my point number in my mind and then BOOM! There's my point. Hope all is well with you. Don
Michael, I read your Do's and Don'ts of Dice book with great enthusiasm and learned so much.  We took a trip to Casino Niagara. P4K worked, Michael!  I was a little scared at first for betting big odds but soon my fear was gone when I began to be paid in green chips!  What a great feeling!  We were not quite disciplined enough to leave when the table turned cold, so we gave some of them back to casino.  Still, we left as winners.  However, this was good lessons as well, things not to do, as you clearly instruct in the playbook. Julia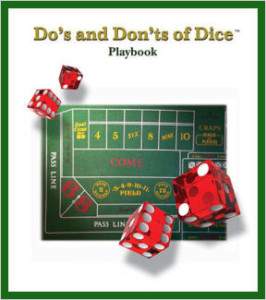 Purchase the Do's and Don'ts of Dice™
$149.95 – PDF Format
Plus the Free bonus, The Chronicles of Playing 4 Keeps® eBook
I never thought of gambling and craps in this way until I bought your Playing 4 Keeps book but you are right creative visualization helps. I have also read some of the books from your friend Stuart Wilde that is some truly amazing stuff. I just want to say thanks for opening my eyes to this concept. I'm fairly new to all of this but plan on practicing this technique more and more. I'm looking forward to more profits from the universal abundance.  Bill P.
---
Mr. Vernon, Just a note to say thanks for the Chronicles of Playing4keeps, not many people give freebies now a days. I read them with great interest, there were some good things that apply to my game. I'm definitely a under funded player. I play at the Horseshoe in Cleveland and their table minimum is $15 which is way too steep for me. However, using the P4K I can at least enjoy a chance to play and if I can find the hot shooter I've racked up some nice wins. When it turns cold, I now know how to recognize when it is time to go home early. I really am interested in applying the metaphysical approach. I'm reading some books by your friend Stuart Wilde what a great mind. I will be trying to apply the concept. I would like to try one of your dice seminars. Thanks again, Bill 
---
Hey Professor, dude you are right! Three rolls of the dice and the cost of your dice book was covered. Playing for free now, Playing 4 Keeps. ha ha – Antonio C. – Corpus Christi, TX
Don't Forget The Free eBook
The Chronicles of Playing 4 Keeps® comes with your playbook order!
Table of Contents

The Unseen Dimension
Pass Line and Come Bet Plays
Place Betting Six and Eight
Don't Pass Line Plays
Playing 4 Keeps® by the Numbers
Metaphysics of the Game
The Skill of Selection a Game
Intuition versus Deceptive Brain
Do's and Don't of Dice
Money Management
Dice Setting and Dice Influencing
The Professor's Dice Sets
Table Manners
Home Practice Playing 4 Keeps®
Craps Bets & Rules – a Review
The Casino's Advantage Over Each Bet
Glossary – Talking Craps
Meditations and Visualization
Playing 4 Keeps® Purpose
Players' Testimonials
 ________________________________________________________________________________________________                       
   Do's and Don'ts of Dice™
Plus the Free Bonus – Chronicles of Playing 4 Keeps® eBook