Second Newsletter Playing 4 Keeps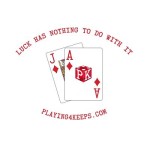 PLAYING FOR KEEPS
August 17, 1999 News Letter
I just returned from Las Vegas and have some things I would like to share.
First, it is rumored that Las Vegas is over built. This means more hotels are having lower occupancy rate and less crowded casinos. This should be good news in terms of better deals all the way around including airfare.
I picked up a couple of articles from Gaming Today newspaper, dated August 10-16-99. I have enclosed them for you to read. I have some comments on the articles.
Staying in the game helps that shot at a streak, by Alan Krigman
The author starts out with our friend, "right time, right place, right action." I say luck has nothing to do with it. It is a matter of skill and knowledge and knowing the numbers. Luck is linked to your read of the energy. Which translates into know your game.
Next, Alan gets into the most important aspect of any table game, bet size and bankroll. He flatters us by calling us distinguished for having the talent to be adept gamblers. However, he gives no guideline as to what he means about bet size and bankroll. Alan continues, telling us that bankroll is an important process. It increases our survival rate during a downswing. One of the key elements of Playing 4 Keeps; you have to be at the table when things get hot. If you follow the system you should catch the hot hand.
I disagree with his suggestion of satisfying a player's goal. You cannot have a goal in these games, only a strong intention. His comment about proper bet sizing to yield big enough earnings is nonsense. You must take into account your comfort level with the bankroll you are playing with. The system on average will produce consistently 12 to 24 units. You can't win $1000 playing $5 units. You would have to play $50 to $100 units and have the necessary bankroll. To be caught up chasing a goal, with or without the required bankroll, is silly. It can or will cost you your profits. Always be satisfied with the win. Always take the money.
Next Alan talks about playing time. As I read this, I thought to myself this guy is a shill for the casino. Six hours at a craps table is for Yahoos. The idea that if you can manage to hang out on a craps table for six hours to have a 49% chance of running into 10 reaping numbers is so ridiculous, no it's stupid. You have an equal 51% chance of not running into 10 repeating box numbers, never mind that betting box numbers is the casinos way of separating you from your money.
I think the whole point of this article was to fill page space. Be wary of articles intended to give you information on any game. There are numerous gaming magazines. I have not read one that had solid articles with information that would help the player win. They are always like Alan's, fluff not substance and ridiculous ideas that you would never use in 100 trips to the casino. Playing it Smart by Alan Krigman, where in this article does he tell the reader how to play smart?
Next: The Best of Baccarat by Byron F. Hebert
OK, you are not Baccarat players maybe, but at least this guy shares some real help even though he does not give specifics for the Baccarat player.
Byron states that discipline needs to be practiced in any casino game. Three keys to discipline play are: 1. A set of rules, 2. Perfect play, and 3. Abide to #1 and #2.
Hidden within his article, he almost mentions the overlooked element, energy. He refers to the flow of the game and making adjustments as circumstances warrant it. This is reading the energy. Be in the present moment. Ask yourself, "what do I know about this table" and "what tools do I have for the conditions present."  I can go on with the engery stuff, but I assume you get my drift and recall it from class.
I applaud his suggestion for having a game plan. We call it having a Battle Plan. Prior to entering the game, you agree with yourself where you will draw a line against losses, decide if you will switch to the Don't Pass and if you will make Come Bets or Place Bets. Don't just jump in the game and see if you can swim. Intention is everything.
Practice is essential for success in any endeavor and with practice comes confidence. Without confidence in your game, you are lost. Without confidence in your game discipline is hard to hold and without discipline you are lost. Byron's last paragraph sums it up:
"Winning requires confidence, trust and mental toughness; confidence in one's ability; trust in a plan, and the mental toughness to strictly adhere to it. The sum of all three is discipline."
I have one last Do's and Don'ts of Dice™ coming up October 15-17 1999, in Las Vegas. If you know someone that enjoys dice and could be interested in learning a craps system, I would very much appreciate the referral.
I enjoy hearing from you. If you are on-line you may e-mail me at tolemac@newmex.com questions or comments. (Note: the email for Tolemac is extinct. I only share it here to preserve the archived article as it was originally published.)
If you would be willing to submit a testimonial about the course, I would love to add them to my web page.
Several Do's and Don'ts students have asked about a class reunion or refresher in Las Vegas. If you have interest, let me know. I will start a name list and we will see.