Positive Poker Expectations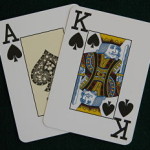 Pushing out with feelings of anticipation before an experience has to do with how you can perceive the energy. It is a metaphysical ploy used consciously or unconsciously. In a way, you are setting yourself up, priming the pump, getting ready for the conformation of what you anticipate. The intention behind this is as simple as "tell me everything that I need to know about this situation".

When it comes to casino games, I have a similar expectation. I use this practice of asking for information all the time. It is the hinge pin when playing casino games. In addition to this asking, I also push out with my feelings and intentions. I project and visualize my intended expected goal and the results that I want.

In a dice game, on a come out roll, I am focused on a natural winner 7 or 11. In my visualization, it is as though 7 and 11 are the only number combinations on the dice at that time. When a point has been established, I am focused on that number to roll in the same way. It does not matter if I am the shooter or another player is doing the shooting. My anticipation is looking ahead for the winner. I am pushing forward in reality with intention. Say the point is "10", one roll, the next roll wins with a "10" on the dice. I am just one roll away from winning and that is the focus.

When I am playing blackjack, I do the same thing. I am pushing out with my feeling, calling the cards. With blackjack, since a total of twenty-one is the best hand I can draw, I start there with my anticipation. Pushing out with my feelings with an intention that says, "Deliver a blackjack"! After receiving my first two cards, if I do not have the natural winner, a blackjack, I move immediately into the next mode. I focus on what my decision will be for the two cards I am holding. I will either be spitting, doubling, hitting or standing. Whatever my play, I anticipate the card needed in order to make my hand a winner. That also includes the dealer's play. If I stand with my two cards, I anticipate the dealer with a stiff hand and drawing to a busting hand.

I have covered this practice for dice and blackjack in previous articles. Today, I am going to address how I use one aspect of moving energy for playing Texas Hold'em.

For those of you that are unfamiliar with Texas Hold'em, here is a quick explanation of the game.

Texas Hold'em is played with the same rules of ranking as other poker games. Each player is dealt two cards. The dealer then lays out five cards in the center of the table, which are common cards to all players. So, every player is playing the five cards exposed on the "board". They are also playing their own two unseen cards, against the rest of the players.

I consider Texas Hold'em to be the more complicated game compared to dice or blackjack. I am only addressing one part of the game here, the starting hand.

Position is a big part of the game. I am always aware of my position in a poker game. Position has to do with the order of play. Sometimes a player must be the first to act on a hand and sometimes the player is last to act. Either way, I want strong cards for my first two cards, called "starters".

Some starting hands are just not playable, with those cards I simply fold, tossing them away. Looking at cards that I can play, I immediately go into a process of imaging all the possible hands that I could have, starting with the strongest or best hand down to the weakest hand. During this process, I am also aware of how I am feeling about the cards, and how I feel as I run through the possible ranking of hands.

Here comes the "Who-Doo-Voo-Doo"… There are times while doing this exercise when I get the feeling that I am already holding the winning hand. This is different from an intention and expectation of the winning hand. (Of course, we always play with this attitude) This is one of those, "I know it, and I've got it, as good as done". It is feeling or perceiving a future event and knowing that it will happen. This experience comes with practice. But, it comes faster with a willingness to believe in the possibility.

It is important to note, as a reminder, the concepts that I share are best used in your daily life. The ability of perception is honed and practiced so that it is ready for the time when you want to use it in a game. The real intention of my articles is to empower players helping them by enhancing their lives. Using their skills in the game is exactly the purpose of "play", practicing for the game of life.

Okay, let's take a few examples of poker hands and see the process to go through using metaphysics and pushing energy ahead.

Let's take a Jack of Hearts and Queen of Clubs, a starting hand of off suit cards.

The hand is off suite so I am not too keen that it will develop into a flush. I would need four suited cards on the board and with a Jack/Queen, I may not have the best hand. Another player holding either Ace/King/Queen of Hearts, with four Hearts on the board, will beat my Jack of Hearts.
Another long shot would be to draw a full house. I would need two Queens and a Jack, or Two Jacks and a Queen on the board.
I have a possible "nut" straight draw, with an Ace/King/Ten on the board.
I have a shot at three Queens.
I have a shot at three Jacks.
I have a shot at two pair, Jacks and Queens.
I have a shot at a pair of Queens with a Jack "kicker".
I have a shot at a pair of Jacks with a Queen "kicker".


I am not likely to want to play this hand in an early position, having to play before most or all the other players. I perhaps would play this hand in a later position, depending on the number of players in the game and the betting before me. In trying to keep it simple here, this hand is not offering me much. I also rely on the energy of the game… how I feel and how the two-hand feels to me. Over cards like Ace and King make my Jack/Queen a weaker play.

Pushing out with energy, I am sensitive to how any feeling resonates, as I run through the ranking possibilities with the various hands. I am open to that, "this is it" whisper to go ahead and make a move with the cards in order to see a flop. (The first three cards on the board) Without having the support of some sign of encouragement, I would fold this hand.

Let's look at Ace/King of Spades for a starting hand.

With Queen, Jack, Ten of Spades, I hold a Royal Flush.
With any three Spades on the board, I hold the "nut flush", best hand with a flush.
With any other suit of Queen/Jack/Ten, I hold an Ace high straight.
Looking for a full house is a longer shot, needing two Aces and a King or Two Kings and an Ace on the board.
Three of a kind, with two Aces or two Kings on the board.
Two pair, Aces and Kings.
One pair, Aces or Kings.


Now, this is a very strong hand and is playable hand from any position. Pushing out ahead of the game with this hand, I am looking for any of the first three options of possible winning hands; royal flush, flush or straight. Sure, a full house would be great too!

Last example, I hold a pair of Tens, or also called pocket tens.

With the two remaining Tens on the board, I hold four of a kind.
With another Ten and any pair on the board, I hold a Full House.
With any three of a kind on the board, I hold a Full House.
With another Ten on the board, I have three of a kind.
With another pair on the board, I have two pair.
I do not think about having a straight, since four cards on the board in the correct order are needed for the play. (It also is weak as a straight and can be beat by others in the game with a higher cards.)
 
I want to play this hand and I do want to see the flop, (the first three cards on the board). I am pushing out with the energy to see three cards that improve this hand of paired ten's. I expect to see something that connects with any of the first five options above. It is my vision for the two ten's to become the winning hand.

Okay, these examples are a simple introduction, demonstrating how I review a starting hand for possibilities and how I use energy with intention. I am looking for the best hand, of course. When my first two cards have more possibilities of developing into winners, the hand becomes more playable. Again, in the process of this exercise, I am "switched on", not only to the cards, but how I feel as I "push out ahead" of the game with perception. This is the added edge for any situation, perception ahead of reality. Using feelings and intention you can create positive expectancy about the hand or situation that is developing. Doing so, provides you with an edge over others playing the same game. We are also looking for a resonating feeling, a feeling of "yes, this is it!"

Pushing out with your feelings will help you touch into the dimension just ahead of present time. It can provide you with an edge and with the confirmed feeling of "this is it". Just like experiencing any other situation that is unknown to you, using the techniques of applied metaphysics in a Texas Hold'em game can provide you with a huge advantage.
Copyright © 2006 Michael Vernon
More on Texas Hold'em and other casino games found in Playing 4 Keeps™ Blogs.